Summary
Gold and silver prices dropped hard last week primarily on the realization that the Fed will hike interest rates during its upcoming meeting.
Speculators sold off gold positions with the price drop but we still remain fairly high compared to historical net long positions at this price level.
Silver speculators barely sold their speculative positions despite the silver drop and thus we remain very wary of silver.
Asian premiums are rising with the recent drop in gold and that provides investors with some green shoots as we move forward.
We are moving our outlook for gold from short-term bearish to neutral.
The latest Commitment of Traders (COT) report showed a predictable fall in speculative long positions and a rise in speculative short positions – which pretty much tracked the gold price. Seeking Alpha were surprised that we didn't see a larger drop in the speculative long position as gold dropped over 3% during the COT week (Tuesday to Tuesday).
But there were some green shoots for gold bulls as evidently physical demand in China and India both started to pick up signified by rising premiums in the physical gold market. While it didn't make up for the drop in both the speculative and ETF bullion sales, it is an important factor we look at as it can change the short-term bias of gold traders and obviously soaks up gold inventories.
About the COT Report
The COT report is issued by the CFTC every Friday, to provide market participants a breakdown of each Tuesday's open interest for markets in which 20 or more traders hold positions equal to or above the reporting levels established by the CFTC. In plain English, this is a report that shows what positions major traders are taking in a number of financial and commodity markets.
Though there is never one report or tool that can give you certainty about where prices are headed in the future, the COT report does allow the small investors a way to see what larger traders are doing and to possibly position their positions accordingly. For example, if there is a large managed money short interest in gold, that is often an indicator that a rally may be coming because the market is overly pessimistic and saturated with shorts – so you may want to take a long position.
This Week's Gold COT Report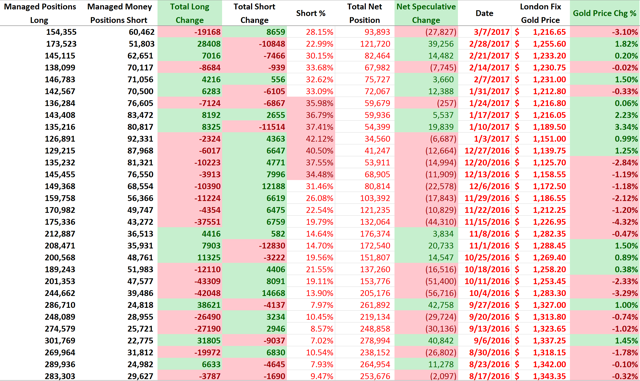 This week's report showed a decrease in speculative gold positions as longs shed 19,148 contracts during the COT week while shorts added 8,659 contracts to the gross speculative short position.
Source: Seeking Alpha