Most analysis of gold and silver markets tends to be U.S.-centric. However, the next secular trend in precious metals markets may have less to do with U.S. debt, U.S. politics, the U.S. central bank, and the U.S. dollar and more to do with a gigantic new source of demand.
It's not the 1970s anymore. Back then, big moves in the metals markets were centered on United States. The great gold and silver mania of the late 1970s was driven by inflation fears and a rush of speculative demand. Although coin dealers struggled to keep up, there was no actual global shortage of physical metal, and spot prices crashed after manic buying peaked in January 1980.
Today, it's a whole new world when it comes to sources of gold demand. Gold prices are still quoted in dollars, but international buying and selling now figures much more prominently in determining those prices.
Over the past four decades, the populations and buying power of Asian countries have soared. As they have become wealthier, they have bought more gold. India is now the world's number one consumer of gold. India and China together now make up more than half of all world gold demand, according to the World Gold Council.
The recently launched Shanghai Gold Exchange will make China one of the leading players in physically settled gold contracts. No longer does the global gold trade have to go through the New York or London paper markets.
Fast-Growing Muslim World Can Now Turn to Gold as an Investment
Going forward, the fastest growing source of gold demand could come from the Islamic world. Iron-fisted Islamic law imposes strict rules on the types of financial instruments that can be held in compliant accounts. Among the assets that are now permitted are physical precious metals.
The Accounting and Auditing Organization for Islamic Financial Institutions recently approved a new Shariah Standard on Gold. This new standard is expected to be widely adopted this year by Islamic banks, brokerages, and other financial institutions. It will enable gold to be held as an investment asset within Shariah-compliant accounts.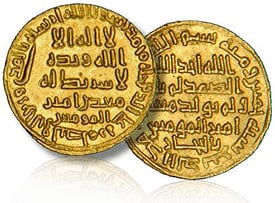 The upshot is that investment demand for gold among Muslims could surge by several hundred tons amounting to tens of billions of dollars. Total Shariah-compliant assets under management are estimated by the Islamic Finance Stability Board to grow to $6.5 trillion by 2020. If clients opted for just a 1% allocation to gold, that would translate into $65 billion – or more than half of annual worldwide gold production.
While the fertility rate of most Western cultures has been declining at an alarming rate, the Muslim population itself is rapidly growing worldwide. According to a report by the Pew Research Center,"if current demographic trends continue, the number of Muslims is expected to exceed the number of Christians by the end of this century." That would make Islam the world's biggest religion.
Source: Gold Seek