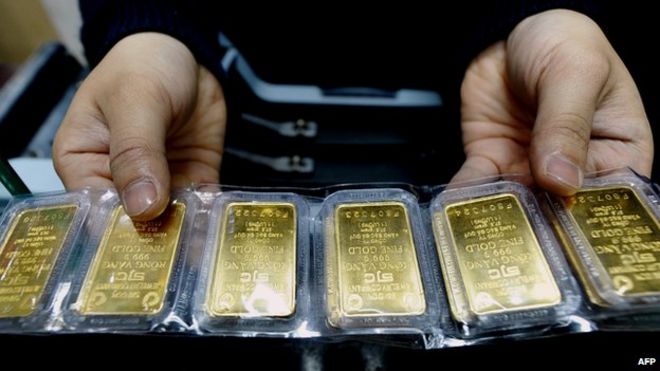 Why has the gold price fallen so sharply?
On Friday 20th July the price of gold dropped 4% to a new 5 year low of £700. This is the first time gold has traded below this price since March 2010. In this news article we look at some of the recent headlines which have been pushing the prices lower.
"The spot price of gold slumped by more than 4pc to $1,086 an ounce in overnight trading after traders sold 57 tonnes of gold in Shanghai and New York, choosing the moment of minimum market liquidity in what appears to have been a targeted attempt to hit prices hardest… As the sell-off this morning passed the important barrier of $1,100 an ounce for the first time in five years, it triggered stop-loss orders, which traders put in place to limit their losses by automatically selling when the price reaches a predetermined level. That caused the price to drop even more sharply." The Telegraph
Some of the recent events which have contributed to this include:
The Crisis in Greece
Fears of Eurozone collapse have receded slightly after Greece accepted a bailout deal, investors are once again more comfortable holding riskier assets that earn a return.
"In exchange for funding worth up to 86 billion euros ($94 billion), Greece has accepted reforms including significant pension adjustments, increases to value added taxes, an overhaul of its collective bargaining system, measures to liberalize its economy and tight limits on public spending. It has also agreed to sequester 50 billion euros of public assets in a special privatization fund to act as collateral on the deal." BBC
The Stronger Dollar
"Some investors have been scared off recently by expectations that the Federal Reserve will hike interest rates for the first time in nearly a decade. That has boosted the dollar, which is up 8.5% against a basket of six major currencies this year. That in turn puts pressure on commodities like gold as it makes them more expensive to holders of other currencies." CNN
China Slowdown
China offered a rare peek into its financial system on Friday, releasing an update on its gold reserves for the first time in six years. At the end of June, its gold holdings totaled 53.32 million troy ounces, up 57% from the end of April 2009.
Read: China finally says how much gold it has, but nobody believes it (Market Watch)
The Iran Deal
A recent pact reached by six major powers last week to ease economic sanctions on Iran is seen as easing political tension in the middle east. Under the agreement, Iran's nuclear activities will be allowed to continue for peaceful purposes. This deal has meant that gold, used by paper traders has lost some appeal as an immediate safe haven as they move to riskier, potentially more profitable investments in the short term.
What happens next? (Our predictions) 
Many gold mines will now be operating at a loss, the gold price is now below a sustainable level for mining production to continue, this means that in the coming weeks we will see many mines closing their doors until the price goes up enough for production to continue.
Greece is not out of trouble yet, this one "small" bailout does not fix all of Europe's financial problems and it is inevitable that someone will choose to leave or be forced out of the Eurozone eventually. 
Is China telling the truth about their gold holdings to suppress the gold price while they continue to buy metal?
Sources: MarketWatch, BBC